One of the interviews I did at IBM Impact was with Paul and John from The Cube.
Paul and I did a Google hangout last year after Sugarcon around CRM, link
here
.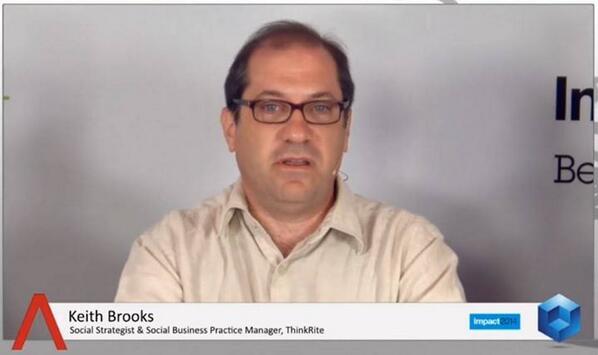 I am #5 on the list found here:
http://siliconangle.tv/ibmimpact-lasvegas-2014/
My Video (below) and some highlights from our discussion can be read here:
http://siliconangle.com/blog/2014/04/28/thinkrite-innovating-the-analytics-of-personnel-productivity-ibmimpact/
This time we hit on many topics, the Opening keynote, collaboration, HR, etch a sketch, analytics, messaging, conference calls, meeting analytics and Unified Comunications.
The Silicon Angle team has some great software to slice and dice video around topics, people or whatever.
Thank you to the IBM Impact team for fitting me in among all the IBM executives links below.
Showtime:
Monday, April 28, 10:00 am Pacific through
Tuesday, April 29, 5:00 pm Pacific
Guests*:
Monday, April 28, All times Pacific
10:00a
Scott Francis, Founder & CTO, BP3 Global, Inc.
,
@sfrancisatx
10:30a
Doug Balog, GM, Power Systems, IBM
,
@DouglasBalog1
1:00p
James Taylor, CEO & Principal Consultant, Decision Management Solutions
,
@jamet123
2:30p
Maribel Lopez, Founder & Principal Analyst, Lopez Research
,
@MaribelLopez
3:00p
Judith Hurwitz, President & CEO, Hurwitz & Associates
,
@jhurwitz
3:30p
Bob Picciano, SVP, Information & Analytics Group, IBM
5:30p
Gal Shachor, Distinguished Engineer, Chief Architect, IBM Worklight
6:10p
Steve Mills, SVP & Group Executive, IBM Software Systems
Tuesday, April 29, All times Pacific
10:00a
Meg Swanson, Director BlueMix Marketing, IBM
10:30a
Vijay Dheap, Global Product Manager, Big Data Security Intelligence & Mobile Security, IBM
,
@dheap
12:00n Ndu Emuchay, Distinguished Engineer, IBM
1:00p
Matthew Webster, Senior Software Engineer, CICS Technical Planning & Strategy
2:30p
Stephanie Trunzo, Chief Creative Officer, PointSource
,
@sltrunzo
4:00p
Vishal Rajpal, General Manger, BPM, Cloud, Mobile, Perficient, Inc
,
@vishalrajpal
4:30p
Inhi Cho Suh, Vice President, Big Data, Integration and Governance, IBM
,
@Inhicho